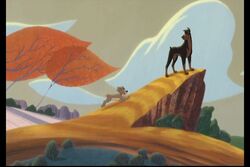 World Without Fences is a song in Lady and the Tramp II: Scamp's Adventure performed by Roger Bart. It illustrates Scamp's desire to become a "wild dog" free from boundaries and responsibilities. Scamp is chained in the backyard. He runs around, pretending that he is not chained and is instead running through the countryside with the Junkyard Dogs.
Scamp:
Far from here is
Where I want to be
Somewhere out there
Loose and running
Nobody's leash to hold me
Nobody's hugs to crush me
Nobody's soap
And scratchy combs
To bathe and brush me
A world without fences
Where I can run free
And be with real dogs
Will bring the real dog out in me
No walls and no boundries
Where I can be free
A world without
Walls or fences
That's exactly
Where I want to be
This pup just won't
Sleep his life away
On some sofa
Like his father
Too many bones to chew up
Too many smells to sample
Too many fancy flower beds to rip and trample
No rules to control me
Thats not what I want to be
A world without fences
Thats the world I want for me
No rules, No responsibilities
On my own
Completely free
A world without fences
For me
Ad blocker interference detected!
Wikia is a free-to-use site that makes money from advertising. We have a modified experience for viewers using ad blockers

Wikia is not accessible if you've made further modifications. Remove the custom ad blocker rule(s) and the page will load as expected.