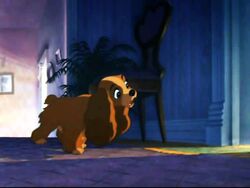 "What is a Baby?" is a song sung by Lady in Lady and the Tramp.
What is a baby?
I just can't understand
It must be something wonderful
It must be something grand
'Cause everybody's smiling
In a kind and wistful way
And they haven't even noticed
That I'm around today
What is a baby, anyway?
Oh, what is a baby
I must find out today
What makes Jim Dear and Darling
Act this way
Ad blocker interference detected!
Wikia is a free-to-use site that makes money from advertising. We have a modified experience for viewers using ad blockers

Wikia is not accessible if you've made further modifications. Remove the custom ad blocker rule(s) and the page will load as expected.