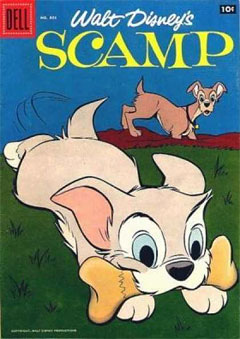 Scamp's Original Disney Comics was first published in October, 31, 1995, which means they were made after the release of the original film (released in June 22, 1995). The exclusive comic strips, according to the official Disney website, are about Scamp showing his life and having adventures long before the sequel of the original Lady and the Tramp was made. Scamp is the principal character who supposedly has two sisters (Ruffly and Fluffy) and one brother (Scooter). There is also Lady and Tramp and other new characters not seen in the original or sequel films.
Great artwork quality has been provided by artist Dick Moores. While Ward Greene, one of the script writers of the animated film, wrote the book of TLATT for Walt Disney. He had been writing scripts for a comic strip as well, which means that these strips are official as they can be, making TLATT universe wider and brighter.
Some Characters in The Comics
Edit
External Links
Edit
Ad blocker interference detected!
Wikia is a free-to-use site that makes money from advertising. We have a modified experience for viewers using ad blockers

Wikia is not accessible if you've made further modifications. Remove the custom ad blocker rule(s) and the page will load as expected.