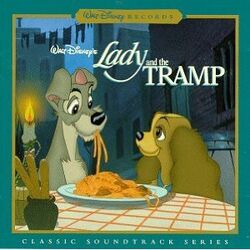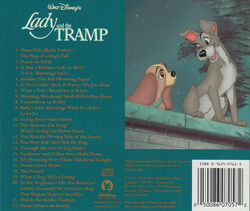 Lady and the Tramp is the soundtrack for the animated film of the same name. This album features songs right from the movie sung by Peggy Lee.
Main Title (Bella Notte) / The Wag of a Dog's Tail
Peace on Earth (Silent Night)
It Has a Ribbon / Lady to Bed / A Few Mornings Later
Sunday / The Rat / Morning Paper
A New Blue Collar / Lady Talks To Jock & Trusty / It's Jim Dear
What a Day! / Breakfast at Tony's
Warning / Breakout / Snob Hill / A Wee Bairn
Countdown to B-Day
Baby's First Morning / What Is a Baby / La La Lu
Going Away / Aunt Sarah
The Siamese Cat Song / What's Going on Down There
The Muzzle / Wrong Side of the Tracks
You Poor Kid / He's Not My Dog
Through the Zoo / A Log Puller
Footloose and Collar-Free / A Night At The Restaurant / Bella Notte
It's Morning / Ever Chase Chickens / Caught
Home Sweet Home
The Pound
What a Dog / He's a Tramp
In the Doghouse / The Rat Returns / Falsely Accused / We've Got to Stop That Wagon / Trusty's Sacrifice
Watch the Birdie / Visitors
Finale (Peace on Earth)
Ad blocker interference detected!
Wikia is a free-to-use site that makes money from advertising. We have a modified experience for viewers using ad blockers

Wikia is not accessible if you've made further modifications. Remove the custom ad blocker rule(s) and the page will load as expected.