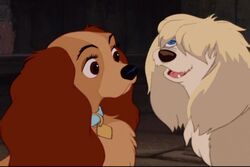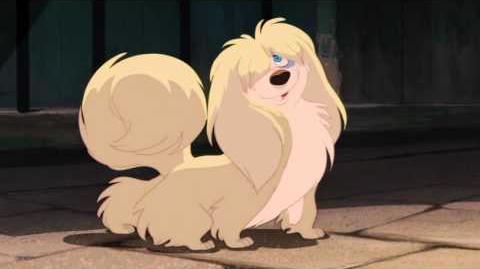 "He's a Tramp" is a song featured in Disney Lady and the Tramp. It is sung by Peggy Lee. The song was nominated for AFI's 100 years...100 Songs, as one of 15 songs from Disney and one of 17 songs from an animated movie to be nominated.
In the 1980s and 1990s, the song was featured as a DTV music video, set almost entirely to clips of the Big Bad Wolf.
On the Disneymania 2 album, The Beu Sisters perform a pop/ska cover of this song.
Peg:
He's a tramp
But they love him
Breaks a new heart
Ev'ry day
He's a tramp
They adore him
And I only hope
He'll stay that way
He's a tramp
He's a scoundrel
He's a rounder
He's a cad
He's a tramp
But I love him
Yes, even I
Have got it pretty bad
You can never tell
When he'll show up
He gives you
Plenty of trouble
I guess he's just a
No 'count pup
But I wish that he
Were double
He's a tramp
He's a rover
And there's nothing
More to say
If he's a tramp
He's a good one
And I wish that I
Could travel his way (x3)
Ad blocker interference detected!
Wikia is a free-to-use site that makes money from advertising. We have a modified experience for viewers using ad blockers

Wikia is not accessible if you've made further modifications. Remove the custom ad blocker rule(s) and the page will load as expected.